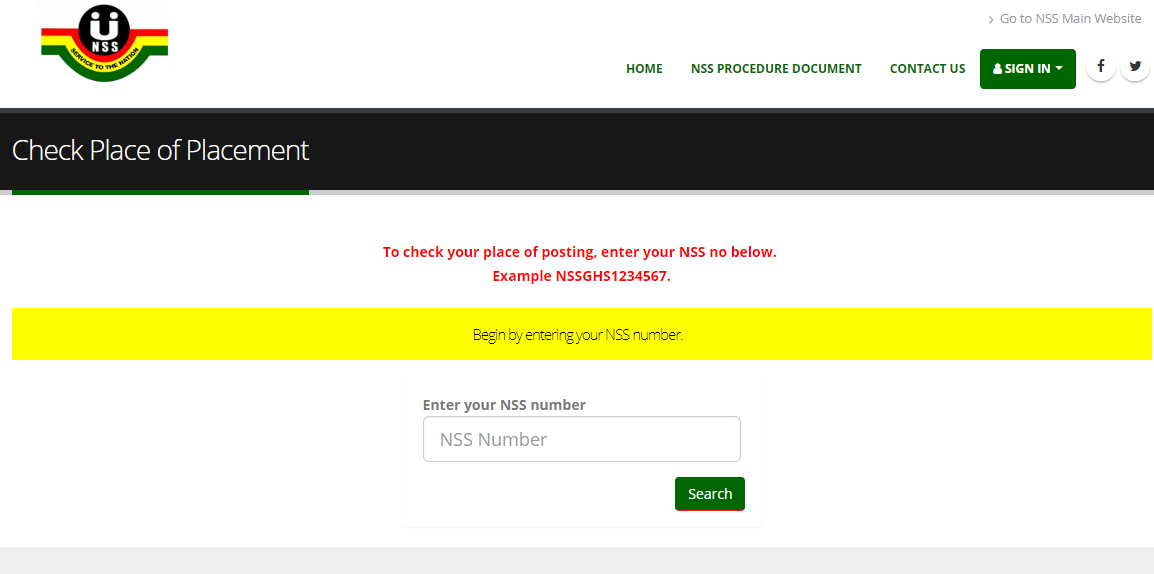 NSS AFTER POSTINGS REGISTRATION STEPS:
Confirm your posting on Dashboard
Print appointment letter & user agency form for endorsement
Book appointment to NSS Regional office for Verification
Ezwich & Biometric Registration
GOOGLE CHROME BROWSER is suitable.
▪️▪️▪️▪️▪️▪️▪️▪️
STEP 1️⃣
✳️CHECK POSTINGS
Visit: www.nss.gov.gh
Click on Find Posting OR
Simply open this link to check yours. 👇
https://portal.nss.gov.gh/sign-in
✳️Enter the EMAIL you used for the online registration & Your Dashboard PASSWORD Then click on SIGN IN
After clicking on the SIGN IN, you will see POSTING LETTER click on it to view where you have been posted.
✳️If you don't like where you are posted/wants to be posted to a company of your choice (SPECIAL REPOSTING)
Chat official directly 👇🏻for INSTANT CHANGES
https://wa.me/233543423601
✳️If your dashboard isn't opening, visit any NSS Regional/Head-office for us to assist you.
▪️▪️▪️▪️▪️▪️▪️▪️
STEP 2️⃣
PRINT APPOINTMENT LETTER & USER AGENCY FORM
When Appointment Letter is READY, follow the steps below to print yours.
✳Sign-in to your Dashboard again
https://portal.nss.gov.gh/sign-in
✳Click on Print Posting Letter
✳Click on Show Appointment Letter to print it.
NOTE: The Appointment Letter has two pages with NSS Executive Director's signature at the bottom. It also comes with User Agency forms(all together), So print all.
What to do after printing APPOINTMENT LETTER & USER AGENCY ACCEPTANCE FORM.
✳1st, Submit the APPOINTMENT LETTER & USER AGENCY ACCEPTANCE FORM to the organization you have been posted.
The USER AGENCY ACCEPTANCE FORM is what has to be signed & endorsed with official stamp by the Head or HR of the organization You were Posted.
❌ REJECTED BY ORGANIZATION ❌
If You are Rejected by the Organization you are posted, take a Released/Rejection letter from the organization, add your appointment letter to it and Submit it to the NSS Regional/Head-office for computer reposting.
♻️If you want to be Reposted to a company of your choice 👇instantly
https://wa.me/233543423601
▪️▪️▪️▪️▪️▪️▪️▪️
STEP3️⃣
BOOK APPOINTMENT TO NSS REGIONAL OFFICE
NOTE: Booking appointment is Only for those who were accepted at their place of posting, if you were rejected, wait to be reposted to a new place and accepted before you book appointment.
1️⃣ Login to your dashboard.
Click on the icon at the top right 🔳 of the dashboard you see options;
Dashboard
Book Appointment
Your appointment
Your Allowance
Reset password
Logout
You then Select Book Appointment
The available date and time would be suggested. You then choose from the options which time and date you prefer.
2️⃣Go to the NSS Regional office/Registration Center in the region you are posted on the Appointed date and make sure you go with the signed appointment letter, School ID and National ID card you used during the online registration.
NOTE: If you have any mistake to correct with your name, course or date of birth, draw the official's attention for it to be corrected before your Nss certificate is released.
3️⃣ After your regional registration you would be given a Regional Acceptance Number (RAN).
4️⃣ Make three copies of the endorsed letter with the (RAN) given to you submit one to the NSS district office, one to the organization you are posted and keep one for yourself.
5️⃣Ask the official when you can come for the biometric registration Picture and fingerprint they would alert you when it begins then you report back for the biometric registration.
Chat Officials wa.me/233543423601 if you want reposting to a place of your choice anytime
▪️▪️▪️▪️▪️▪️▪️▪️
STEP4️⃣
E-ZWICH & BIOMETRIC REGISTRATION
Before you register for E-ZWICH, Kindly note that, NSS PERSONNEL are in 2 categories;
1️⃣ SUBVENTED CATEGORY: This simply means you have been posted to a government funded institution hence you would be paid by NSS.
Those under this category are required to register for E- Zwich cards from *any operating bank. Then login to their dashboard to provide the E- zwich details ( Number) to be paid through that medium monthly. The E-ZWICH number would again be taken at the regional level once the personnel goes for the regional and biometric registration.
IF you already have an active ezwich card, no need to register for a new one, you can use your existing one.
2️⃣ NON SUBVENTED CATEGORY This means you have been posted to a private or non-government funded institution hence the institution is to pay you. Most of these institutions pay either through your bank account or tabletop.
NOTE: If you want to be reposted to any place of your choice whether you have completed all your registration or not we can still assist you with Special Reposting, just contact 0543423601 for instant changes.
For any assistance 0543423601.
Have a fruitful service period